Discover more from MH WorkLife
MH WorkLife is building care infrastructure for today's workforce. Join thousands of execs from Meta, Indeed, Google + more who subscribe.
Over 11,000 subscribers
Dear Moms: Eat the Damn Peach
What we can all learn from a popular mom comic who became the center of an internet pile-on.
When I return home from picking up our two kids from daycare and after-school, I immediately walk to the kitchen to begin prepping dinner. When my husband gets home, he goes into our bedroom, shuts the door, changes his clothes and decompresses for 15 minutes or so. 
To be honest, I never even thought about this difference until I stumbled across The Great Peach Controversy of 2022. If you don't know what that means, congratulations, you probably have healthy boundaries regarding your social media usage. 
Here's what happened: A few weeks ago, Mary Catherine Starr, the artist behind the popular Instagram account @MomLife_Comics, reposted an illustration she made in 2020. It depicts how she and her husband react differently when they stumble across the last peach on the counter: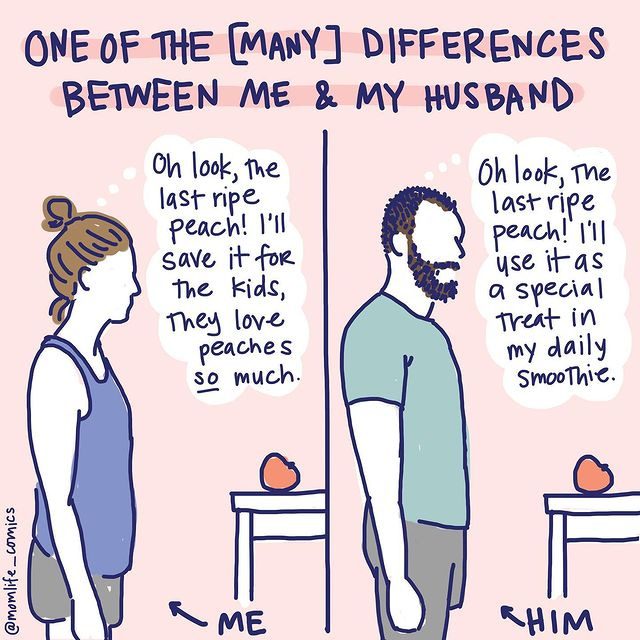 It's the type of relatable content that Mary Catherine's account regularly serves up, illustrating how gendered parenting norms can make motherhood more challenging. The cartoons frequently show how moms spend nearly every moment multitasking, while dads take breaks to work out or browse the internet. Moms have internalized the notion we must sacrifice our own health and happiness at the altar of motherhood. When presented with a peach, moms save it for the kids. Dads eat it.
For those who are unfamiliar with her work, the peach cartoon could look like an indictment of dads. It only takes a moment of browsing her comics to see that Mary Catherine is actually critiquing social norms that make moms feel unable to eat the peach (or pee alone or exercise in peace). But, of course, the internet is not known for embracing nuance. This week, the cartoon went viral on Twitter, where it was decided that Mary Catherine is a "whiny" wife who secretly hates her husband. 
"What began as hundreds of 'get a divorce' comments has now developed into scary threats, images of me killing myself, release of my private information, and online harassment towards me [and] my husband on all of our platforms," she said in an Instagram post responding to the controversy. 
If you've ever wondered why America can't seem to muster substantive support for working moms, such as paid leave and affordable child care programs, the pile-on against Mary Catherine provides an illuminating clue: We still can't admit we have a problem. When women acknowledge what sociologists have long known is true—that American working moms do more chores, child care, worrying, organizing and sacrificing than working dads—we are deemed ungrateful misandrists. 
Thanks for reading Mother Honestly! Subscribe for free to receive our weekly newsletter.
Now, it seems, we can't even admit these truths in our own communities.
"Mothers have carved out this space on the internet for ourselves where we are able to talk candidly about our challenges," says Mary Catherine. "I don't have say, 'I love my children and husband dearly,' because that's a given in our community. We're talking about the parts of motherhood that aren't as wonderful. I don't think the world is ready for women to really tell the truth of our experience. Or if we do, it means there's something wrong with us, as opposed to something wrong with the world."
So we stay quiet while shouldering more and more of the household burden. Then we feel incredible guilt when we can't manage an unmanageable load. That guilt serves a purpose: It keeps us from complaining. When we are preoccupied with what we can do better as individual mothers, we have less time to demand more of others (cough, men, cough, lawmakers). And vilifying women like Mary Catherine who challenge this status quo as husband-hating hags is one of the oldest forms of sexism around. 
"People want to put women in boxes, and they want to call a mother a good mother or a bad mother, and if you say something the world at large thinks is bad, then you're a bad mother and a bad wife, and that's the end of the story," she says. "There's no gray area for women to be multidimensional. We're not able to hold two truths in us at this point in our culture, because people still want women to be quiet and do what they're told."
Despite the frightening attacks, Mary Catherine plans to continue creating her comics, but there's one thing she wants us to learn from her: Eat the damn peach. We gain nothing from denying ourselves pleasure. That's what her followers encouraged her to do, so she turned it into her account's summer mantra. 
For me, that means taking the time to unwind when I get home, just like my husband does. I'll pour a glass of wine and put on some good music while I make dinner. What does eating the peach look like for you?
---
JOIN US:
Employee (or Inclusion) Resource Groups have been a catalyst for employees within an organization to engage and support each other through a shared experience. That support is even more crucial now, as employees struggle to care for themselves and their loved ones. Join us to learn how ERGs can elevate care for employees, at home and in the workforce. You'll find out how to position your ERG for success, increase funding, navigate common challenges, connect with the community and collaborate with existing ERGs. Register here!
---
TAKE THE SURVEY:
Mother Honestly is very proud to present our first summit in Africa!  We are partnering with Lagosmums to present the first edition of the Prosper Summit, which focuses on how the modern African family will prosper post-pandemic. This is a great opportunity to bring our communities together as we tackle pressing issues affecting women and families in Africa and provide actionable solutions. As we prepare for the summit, please take the "State of Family and Work Survey." Help us understand the modern African family. Tell us about your experiences as a working parent in Africa, so we can work together for real change. It takes just seven minutes! Take the survey here.
---
GET 1-ON-1 ADVICE:
Whitney Casares, MD, MPH, FAAP, is a practicing board-certified pediatrician, author, speaker and full-time working mom. Dr. Whitney is a Stanford University-trained private practice pediatrician whose expertise spans the public health, direct patient care and media worlds. She is also CEO and Founder of Modern Mommy Doc and The Modern Mamas Club App. Book Dr. Whitney today!
---
LOVE TO SEE IT
Women run a record number of Global 500 companies. Fortune released its list of the world's largest companies by revenue, and women headed more of them than ever. But don't break out the champagne: Women CEOs lead 24 companies on the list, a mere 4.8% of the total.
HATE TO SEE IT
Most American women would lose their savings after 8 weeks of unpaid maternity leave, according to a survey of 1,001 employed women between the ages of 18 and 44. Nearly three quarters (74%) said they wouldn't have any cash savings left after 8 weeks of leave, while over half (54%) said they would consider a personal loan to cover costs. 
Other infant formula makers besides Abbott have had Cronobacter contamination in their plants or finished products, according to Food and Drug Administration inspections obtained through the regulatory intelligence company Redica Systems and reviewed by ABC News. Cronobacter has been found at Mead Johnson, which produces Enfamil, and at Gerber. Regulators found a cold storage temperature regulation deficiency at PBM Nutritionals, a subsidiary of Perrigo, which makes store-brand formulas for retailers such as Walmart and Amazon. 
---
#RELATABLE